Have you seen the new Dear Lizzy release? The Daydreamer Collection is perhaps my favourite of all of her collections. With three daughters I scrap my fair share of girlie pages, and this collection made the job a breeze.
My daughter is not thrilled that I'm sharing this photo of her on Pointe, as she's embarrassed that it's not very good. Being that I really know nothing about Dance besides what time to get them there and how much I pay for it, I think it looks gorgeous, and therefore deserves a spot in our albums.
I couldn't resist adding that stitched ampersand by Amy Tangerine.
I struggled between both wanting to hoard these wood buttons
(currently sold out),
and using every single one of them one this layout.
I used another few papers from the collection to create a second layout.
This is my baby looking so cute in her Tap Solo costume.
I thought a pinwheel was a perfect addition to this one.
Another new love of mine is Silhouette sketch pens. They make titles so much more fun. We have the
glitter ones
in the Paper Issues Shop.
With summer beginning to make it's appearance for many of you, it won't be long before you'll be looking for softer papers to use on your layouts. You can grab your own assortment of Daydreamer goodies here in the shop. And don't forget to save yourself 20% by using code:SHERRI.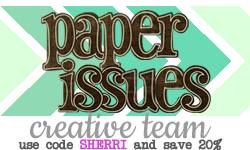 Be sure to pop back later for our newest issue reveal. It's a good one, you won't want to miss it!