Good afternoon, Missy G here again! Good gracious, would you just take a look at our DT member Patricia's December Daily Album! I just love how she uses little bits of paper and embellishments along with items from her everyday to create a beautiful story.
Still looking to create a december album? It's not to late to get some holiday goodness from the Paper Issues Store.
How about some October Afternoon Make it Merry Tidbits?
Be sure to use my coupon code to save 20%!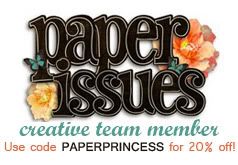 Happy Sunday!